Hosting with free SSL for Lifetime in India
(Last Updated On: June 16, 2020)
In this article, I will guide you about the best hosting with free SSL for lifetime. SSL plays an important role which indicates the security of your site. So let's see how to get free SSL with Hosting in India.
Being a Web developer I have tried and have been using various Hosting Providers. While choosing hosting providers one thing which we always look for is its Cost, Speed, Addons such as Free domain, SSL Certificates, Business Email, etc. So in this article, I will be guiding you for choosing the best Hosting provider who provides free SSL with hosting in India.
What is an SSL Certificate?
In simple terms, an SSL certificate also known as Secure Sockets Layer (SSL) protocol creates an encrypted connection with the user's browser and establishes a secure connection. SSL is an essential component of the data encryption that makes the website secure.
Best Hosting with free SSL for Lifetime:
I have tried various hostings that provide free SSL certificates such as Hostinger, Hosting Raja, a2hosting, 24x7cloudhost, etc but most of theme are not affordable and not many add-ons are included with the plans but if you are planning to purchase Hosting for your Blog, Website, Business and you are low on budget then I will suggest the Best Hosting platform with Free SSL, Domain which is "HOSTINGER". I personally use this hosting and must say its one of the best hosting with free SSL as per my experience.
How to get Hosting with free SSL?
Click on Hostinger Banner below.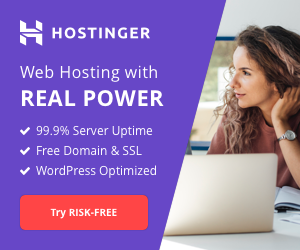 You will be redirected to Hostinger's Official Site.
Scroll down to Hosting Plans.
Select any Hosting Plans and add to cart to get free SSL.
Just Register select Free domain SSL and complete transaction.
That's it, You got hosting with a free SSL certificate!!
Also Checkout: How to Create a Custom Theme in WordPress from scratch
Conclusion:
I hope this article helped you find the best cheap hosting with free SSL for a lifetime. I do personally use Hostinger and refer to my clients. Do let me know your queries in the comment box. I will be writing more articles to help you out.
Keep Sharing & Keep Visiting!
Siddhesh Lad is a passionate blogger by heart. Founder of Freelancer Siddhesh Lad helping Business, Companies, Individuals Grow by providing various Digital Freelance Services worldwide. Also helping IT fresher find jobs by Job Portal.
"Work Hard for Long You Will Succeed But Stop Working Hard If You Don't Achieve Success Because It's Time to Change The Path".