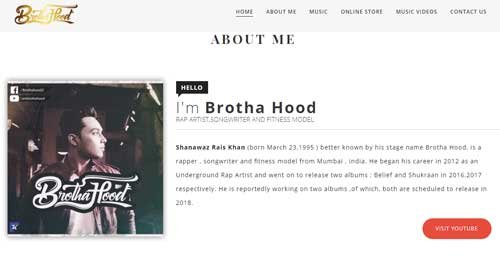 Brotha Hood  Rap artist & Fitness Model
This website is developed by me keeping in mind the requirement and budget of the client and also according to google search engine friendly rules, which client loved and appreciated!
About Brotha Hood :

Shanawaz Rais Khan (born March 23,1995 ) better known by his stage name Brotha Hood, is a rapper , songwriter and fitness model from Mumbai , India. He began his career in 2012 as an Underground Rap Artist and went on to release two albums ; Belief and Shukraan in 2016,2017 respectively. He is reportedly working on two albums ,of which, both are scheduled to release in 2018.