How to work in IT without any Degree?
(Last Updated On: June 7, 2020)
Hello guys in this article I am gonna guide you on how to work in IT without any degree. Not all IT jobs requires degree to work some of them just need skills to get there work done. So here are below steps you must follow to get job or work in the IT field.
As you all know a degree is the most important for recruiting peoples for some job role and if you don't have a Degree you are not considered or ineligible for the job or role. So what can you do if you don't have any college degree and you didn't get time to study due to your personal issues or reasons. So here in this post, I am gonna explain to you how you can overcome this and get you a Job.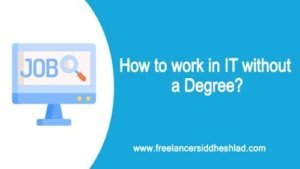 Getting into the IT field without a Degree: It's not so Tough
Here are the steps to get IT jobs when you don't have a degree?
Many top IT careers don't require college degrees as what we learn during degree is just the basics of what we do in the real world. Most hiring managers who look for candidates on various platforms look for candidates who will get there job done and don't care about degrees. So how to get these IT jobs when you don't have a degree?
Step 1: Build skills in Website Design & Digital Marketing 



Start watching tutorials on Youtube and other learning sites such as Udemy, Pluralsight's, etc. Watch tutorials on WordPress the widely used platform by web designers and digital marketers so you can get an internship anywhere and no degree will be required and also you can apply it in creating your own site for your portfolio and along with it you can become a freelancer.
If you wanted to increase your chance for internship or job you need to do have basic knowledge and certifications such as C,C++,.Net, Java, Oracle/SQL, software testing, and if wanted to work in IT network domain then Networking related courses such as Routing and Switching, Security, Ethical Hacker, Cisco Certified courses. When you have these course certifications you have the confidence as you know the skills and you will have the proof/certification to get a job.
So you can do these certifications to learn and upgrade yourself and get a job in IT.
Step 3: Apply for Internships or Job at Startups
Once you have the skill and certifications you can apply for Internships or for a job at a Startup. While applying to create your great portfolio so to impress the Hiring Manager. When you apply show that you have the passion to learn and will work really hard to make it work.
Step 4: Get connected with people on Linkedin
Get connected with people on Linkedin as linkedin is a huge network of professionals you can easily find people looking for people with skills. So you can connect and ask them for referral jobs.
Conclusion:
Don't lose hope but don't only hope. Once you have the skills you will get the job. So these are a few tips or steps you can follow to get a job without having any degree.
Do let me know your queries in the comment box. I will be writing more articles to help you out.
Keep Sharing & Keep Visiting!
Siddhesh Lad is a passionate blogger by heart. Founder of Freelancer Siddhesh Lad helping Business, Companies, Individuals Grow by providing various Digital Freelance Services worldwide. Also helping IT fresher find jobs by Job Portal.
"Work Hard for Long You Will Succeed But Stop Working Hard If You Don't Achieve Success Because It's Time to Change The Path".